Art Therapy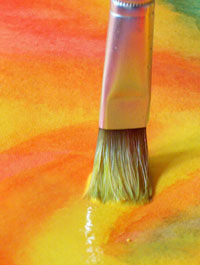 Art Therapy is an effective natural treatment, which helps a person to find the curative resources for himself through artistic activity. It helps a person to handle for example different emotional conditions, trauma and physical illnesses. Art Therapy is also a good way to increase person's creativity and improve one's self realisation.
The most common methods of treatment are painting, form drawing and working with clay. Person who visits an Art Therapist doesn't need any artistic talent, experience or knowledge of art. When having an Art Therapy session one faces own internal world through shapes and colours. The most essential thing is to concentrate and to allow one's mind to calm down. There are no artistic aims, right or wrong, beautiful or ugly in this therapy. The treatment can be put into practice in forms of individual, couple or group therapy. One can also combine Art Therapy to other treatments.
Art Therapy is suitable for people of all ages from children to old people. Most people have got help from Art Therapy to their problems and troubles concerning their physical body and mental imbalances. It is suitable for treatment, rehabilitative treatment as well as self-developing method. It can be used both in acute or chronic diseases. Mentally handicapped can benefit from it in form of continuous rehabilitation.