Vedic Art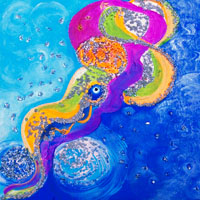 Vedic Art is an easy and natural method to develop person's skills so, that one becomes creative and learns how to co-operate with the laws of nature. According to Vedic wisdom a human being has naturally all the knowledge he needs. One has just to wake up that hidden knowledge inside.
In Vedic Art there is no teaching how to paint, but Vedic Art is a way to remember how to do it. Vedic Art isn't a philosophy, therapy, nor trend of Art, -ism or religion, instead of them it is about universal laws. It could be characterized as a condition of free being, which occurs during painting process. It is a state of consciousness, where a human consciousness is connected to the finest and highest levels of nature.
Vedic Art method influences a person through creative process. It proceeds by itself producing new ideas and insights both in art and in a person's own life. Vedic Art method is a joy of creating, learning of new things and finding ones own abilities. The result doesn't count, but just doing the picture, the process itself.
Vedic Art method is suitable for everyone, who is interested in art and life. In Vedic Art method there is no teaching of technique, but creativity. Technical skills will be developed little by little. Technique will arise from creativity all by itself without separate practice, and there is expression in it from the very beginning. It is about an alternative way of doing art without teacher's analysis or judgment. The developer of Vedic Art method is a Swedish artist Curt Källman. Each one can learn with the help of Vedic Art method how to make a trip inside oneself and find there colors, events and a whole world. Anyone can take an interest in Vedic Art method, as each person learns to express oneself with the help of it.