Merja Neuvonen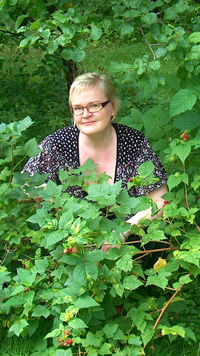 I was born in a countryside village in Eastern Finland. It has been an enormous fortune for me to be able to spend my childhood and youth in the silence of countryside. There was born my love for nature and natural way of living.
I have got enormous help from natural healing methods and natural life style during my life. I wanted first to study Reiki. It was year -97, when I attended classes I and II. I completed class III year -00 and became Reiki Master.
Art Therapy and its healing effects draw my attention year -99. I started to study art therapy, where painting, working with clay and form drawing were the main methods. I became Diploma Art Therapist year -00.
Art itself and combining it with this normal every day life led my path to study Vedic Art year -00. Creativity which comes from inside and possibility to go through one's inner processes inspired me to continue and become a Vedic Art teacher year -02.
I'm extremely thankful to my family, all friends and spiritual teachers, who have helped me on my way towards the light and self-realization. I feel good to be myself and to be what I am today. I'm also grateful for all the obstacles, which I had to face on my way, because they have directed course of my life towards the right direction and natural healing methods. When I got help from them in my panic disorder and recovered totally from it, I felt I need to help other people. I also wanted to make my dream of my own company to come true – and so Intuitive Arts was born. I wish to be able to help and serve other people, and let them hear and learn the above mentioned knowledge and skills.